Squawk Radio
Saturday, June 04, 2005
Christina Holds Out for a Hero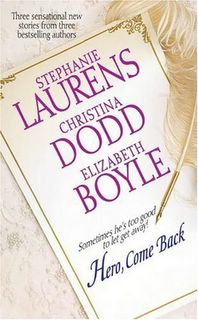 HERO COME BACK

Despite the title, HERO COME BACK is not the story of a sandwich shop revival.
It was the brainchild of one of our Avon editors who said, "Let's do an anthology with the secondary heroes the readers are begging for." Brilliant!
The original plan was for a single anthology with Stephanie Laurens, Julia Quinn, Lisa Kleypas and me, Christina Dodd. Then the Powers That Be decided that was too much firepower in a single book and divided it two, adding an author to each anthology. So we got WHERE'S MY HERO (Lisa Kleypas, Julia Quinn and Kinley MacGregor) and HERO COME BACK (Stephanie Laurens, Elizabeth Boyle and Christina Dodd). Personally, I wish we'd been able to keep the original four together because the book would have been SO HUGE!!!! But that's the kind of decision that isn't in an author's hands.
My story, "The Third Suitor," stars Harry Chamberlain from LOST IN YOUR ARMS, one of my best books IMO. I always love my writing (Teresa and I are our own most unabashed fans), but when I wrote "The Third Suitor," I knew I'd nailed it. The heroine was very different for me — a wide-eyed, fresh-faced ingenue with a twist of earthy wisdom. I had fun writing it and because I wrote it four years ago (!), I read the page proofs cold and found out it's definitely a fun read.
The good news — HERO COME BACK is #30 on the New York Times Bestseller List!
Teresa Medeiros, 6:07 PM
14 comments